The Urban Mobility Dialogue discusses one of the most elementary necessities in modern cities and in life: Mobility.
Citizens travel many kilometers to work, shopping, holiday or even education. Transportation of goods, keeps the cities alive and mobility should be completely available for handicapped people.
Innovation and collaborative participation are fundamental pillars to pave the way to our new cities. Smart cities, cities of the future, sustainable cities need to consider the citizens as the core of their developments.
How can we understand ourselves as mobile humans within future cities and how can we coordinate many different aspects to achieve a common virtue for our future?
During the 4 days of the Urban Mobility Dialogue in Berlin key note lecturers will be presented in the mornings, followed by workshops and dialogues in the afternoons. These formats are supplemented by specific presentations, such as conceptual vehicles and an exhibition. Dialogue groups guided by coaches will discuss specialized topics and common problems. The Dialogue is completed by excursions to main stakeholder from industry, science and innovation.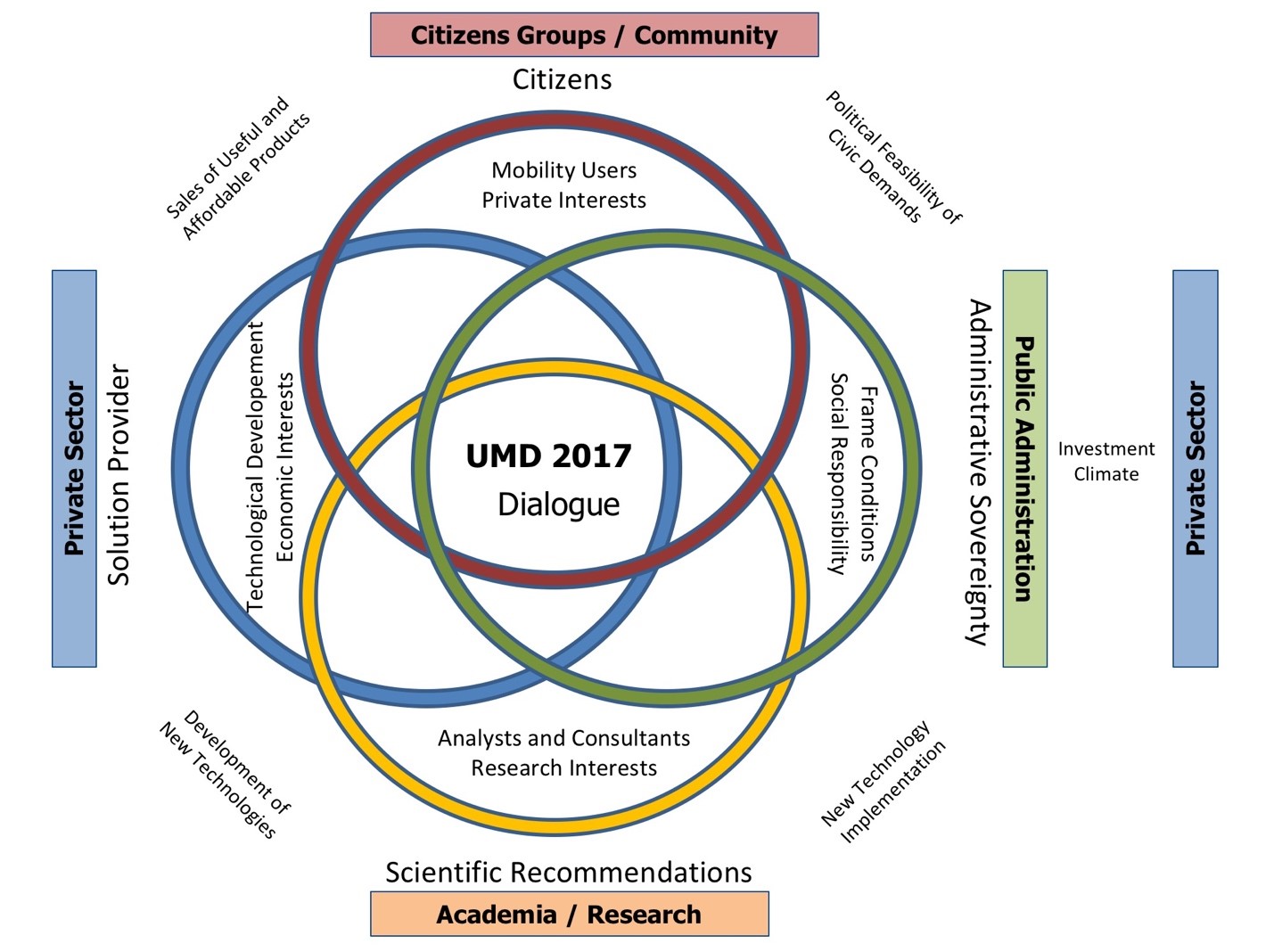 About the Dialogue format
The opener of the International Urban Mobility Dialogue is a presentation of an amazing story about the history of mobility.
On the first day of the UMD, cities will share their innovative approaches and existing challenges in the "Parade of Cities" with all participants coming from the public and private sectors, industry, research institutions / academia and civil society. On the following mornings we will start off with inspiring keynote presentations in the plenary session the "hottest and latest" mobility solutions and technologies, outstanding concepts and pilot projects from urban society and mobility providers around the world.
In the afternoons, we invite you to a World Café and a series of dialogue sessions. Our coaches will bring you into discussion with other professionals in your field of expertise or interest, following real scenarios and problems raised by the cities in the room.
Amongst others the dialogues/workshops topics are: 
 Mobility Culture 
 Urban Planning and Commuting 
 Smart Parking 
 Public Transportation 
 Supply Chain Logistics 
 Autonomous Driving 
 Electro Mobility 
 Mobility as a Service 
 Traffic Management & Safety 
 IoT – Mobility Standards 
 Shared Mobility 
 Big Data in Mobility Business 
 Legal Economic Coordination of Mobility Development 
Over four full days, the Urban Mobility Dialogue program includes participation in up to seven dialogue sessions, an exhibition area, interactive lunches and various social events for networking and exchange. A guest lecture on "Visionary Mobility", given by an outstanding futurologist, will get you fired up and provide a cutting-edge, exciting vision on future mobility. Excursions in and around Berlin to innovative urban mobility projects and their sponsors, complement the program.
We invite cities to share their mobility challenges and to find solutions.
We invite the private sector to present its solutions, ideas and technologies for future urban mobility.
We invite citizens' groups to speak about their needs and requirements for a livable environment.
We invite research institutions and think tanks to present their findings and to provide insight on technological mobility services.